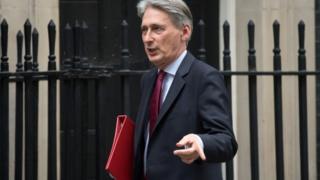 Taxpayers' money should not be spent on preparing for a "no-deal" Brexit yet, Chancellor Philip Hammond has said.
Writing in the Times ahead of next month's Budget, Mr Hammond said he would spend only when it was "responsible" to do so.
The chancellor said he had a responsibility to be "realistic" about the challenges of leaving the EU.
His comments came after Theresa May refused to say how she would vote if there was another EU referendum.
After the prime minister revealed this week that the government had plans for a Brexit scenario without a trade deal, Mr Hammond stressed the importance of avoiding a no-deal end to negotiations with the EU.
He said he would be "prepared for all outcomes, including a no-deal scenario" but added that the best stimulus for the economy was "certainty".
This – he wrote – could be achieved by "reaching a deal on the terms of our future long-term relationship with the European Union".
An extra £412m has already been allocated to government departments to prepare for Brexit over the next four years and Treasury sources suggested more would be made available if negotiations faltered.
However, government sources have sought to play down the significance of Mr Hammond's words, insisting he was merely reflecting Treasury caution ahead of the Budget.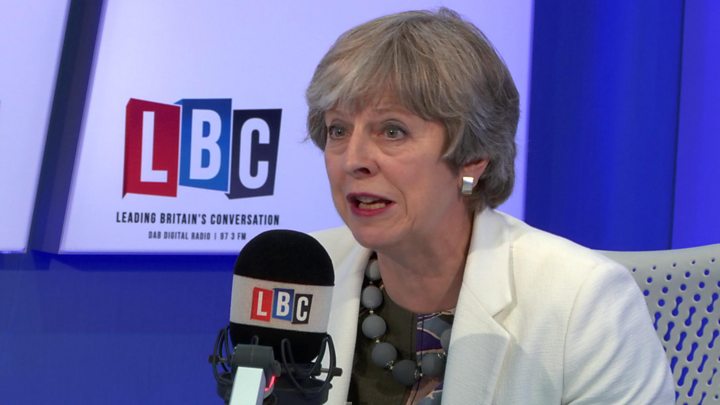 The BBC's assistant political editor Norman Smith said the comments come amid mounting calls from some Tories for extra funds for new IT systems, border posts and staff – likely to be needed if there is no agreement.
On Tuesday, Mrs May – who backed Remain in last year's vote – repeatedly refused to say if she would now vote for Brexit, telling LBC radio: "I don't answer hypothetical questions."
The PM said she voted Remain "for good reasons at the time but circumstances move on" and she was focused on "delivering Brexit for the British people".
Pressed again by presenter Iain Dale, Mrs May added: "What I did last time round was I looked at everything and I came to a judgement and I would do exactly the same this time round.
"But we are not having another referendum and that's absolutely crucial."
'Thought police'
Downing Street sources suggested it was "ridiculous" to say her comments raised doubts about whether she would deliver Brexit, as some critics suggested.
Asked the same question, First Secretary of State Damian Green – who was a board member of the campaign to keep Britain in the EU – told Newsnight "it would have been" better had the country voted to remain.
Liberal Democrat deputy leader Jo Swinson said: "It is staggering that even the prime minister isn't convinced by the government's approach to Brexit."
Former UKIP leader Nigel Farage tweeted: "How can Theresa May negotiate Brexit without believing in it?"
But Labour's Wes Streeting said that although Parliament was rightly abiding by the referendum result, it was wrong to expect MPs like him who voted Remain to now say they had changed their minds.
"I see Brexit thought police are out in force today," he tweeted. "Seems those of us who voted remain are expected to say we'd vote leave now. No chance."
Get news from the BBC in your inbox, each weekday morning